And just when you thought the world couldn't get more fucked up, here we go again!
Ripped from BBC News (18:25 Saturday):
German police are engaged in a huge anti-terror manhunt in the city of Munich after nine people died in a shooting at a shopping centre.
Police are investigating whether one of the bodies is that of a perpetrator. At least 10 people have been wounded.
Three armed attackers were earlier reported to be on the run. Police urged people to avoid public places.
Public transport shut for several hours after the attack at the Olympia centre in the north-western Moosach district.
Police helicopters are flying over the city and the elite border security unit, GSG9, has been flown in.
The body of the suspected attacker was found about 1km (0.6 miles) from the shopping centre, local media reported, and police were using a robot to check it for explosives.
German news magazine Focus reported that a gunman had shot himself in the head, but investigators have not commented.
A car believed to be linked to the attack was taken away by police on a tow-truck, the magazine added.
The Bavarian capital's central railway station was evacuated as authorities suspended all public transport. The system was reopened several hours later.
Thousands of people stranded by the emergency and unable to get home were offered shelter by local residents. The initiative was launched with the Twitter hashtag #Offenetür (open door).
Police, who describe the operation as "an acute terror situation", say the first reports of a shooting in Hanauer Street came in just before 18:00 (16:00 GMT).
Chancellor Angela Merkel's chief of staff, Peter Altmaier, told national TV the motive for the attack was still unclear.
"We cannot rule out that it is linked to terrorism but we can't confirm it either, but we are also investigating in this direction," he said.
A meeting of the government's security cabinet will be held on Saturday.
[spoiler=Live updates from Friday]- 18:51 BST 18:55 19:00 19:1019:25 19:40 Friday
From USA Travel Department: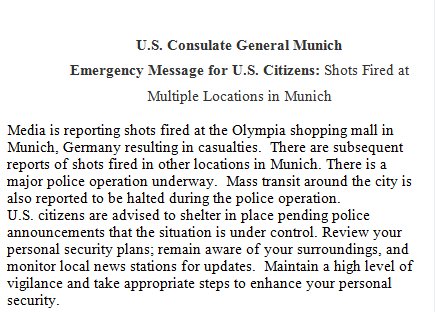 Police say "several" three, according to the Bavarian Interior Ministry six people have been killed in the "shooting rampage" at the Olympia shopping centre in the Moosach district of Munich. Residents asked to avoid public areas.
Press are currently in the "something's happening but we don't know any details" phase.
There may be more than one shooter.There are probably three gunmen "designed to create panic, chaos, fear" The attackers are believed to have run away. The Munich subway network has been halted.All Munich transport is closed down. Police say that they don't know where the shooters are, and have issued a statement: "Look after yourselves and continue to avoid public places" Taxi drivers have been told not to pick up passengers from the area near the Stachus. Nobody has been arrested as of yet. "All available forces" are being deployed.
Local radio: "All of the police forces are at the shopping centre and at the official places in Munich as well and they're calling out that nobody's allowed to go to the official places. They are trying to close everything down because we do not know where this person who's been doing the shooting is at the moment."
Armed officers are surrounding the Karlsplatz area of Munich. Unconfirmed reports of more shootings elsewhere in Munich. This has turned out to be a false alarm.
[/details]
Live BBC updates
Live Guardian updates